Trip Description
DaiCao stream was the member of nine biggest streams in HongKong. It locates on the southern side of the Tai Mo Shan (大帽山). The stream itself is very long however the lower stream below Chuen Lung (川龍) runs through many households. Consequently, good water quality is not expected in lower stream.
The lower stream below 400m is not very exciting, there is no big waterfalls and pools. As you trek up the stream, majestic falls and crystal clear water pools begin to display themselves.
Location 1: Altitude 320M
This is the entrance of the stream in Chuen Lung. However there are a number of households living nearby the stream around this area so we chose to enter the stream at 355m where you can find a bridge next to some small farms. The solid blue line on the map indicate our actual route.
Location 2: Altitude 440M
After some distance of rustic stream trekking, some refreshing landscape shows up. This is a multi-storey waterfall.
Location 3: Altitude 495M
Here is another winding multi-storey waterfall in the placid forest.
Location 4: Altitude 525M
In hot summer time, there is nothing better than jumping into a pool of limpid running water. Here is one for you. Although the pool is not very big, the water is very clean. I found some shrimps living in this pool.
There is also a wide open rocky area right next to the pool, it is an ideal place for taking rest.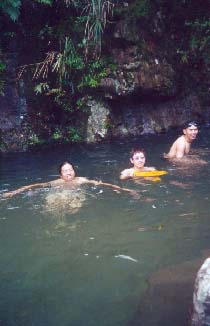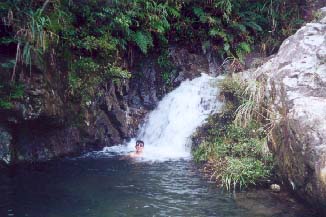 Location 5: Altitude 535M
This is a very interesting watefall. The water is running over a very straight rocky surface. The cracks on the rocky surface are almost going parallel with each other.
Location 6: Altitude 600M
At this height, you will encounter a 10m waterfall. There is a faint path on your left waiting for you. The upper part of the path is very steep, some hiking veteran have prepared a rope to help you scaling up.
At the bottom of this steep slope, we found a very rare plant called Sciathila Megastyla (大柱霉草).
Location 7: Altitude 610M
Here is another 10m refreshing waterfalls in the middle of the forest.
Location 8: Altitude 650M
Now you can see a concrete bridge lying across the stream. This bridge marks the end of this journey.